Registration
Closing Ceremony of Stepan Avagyan Memorial: "Jermuk-2017" XII International Open Youth Chess Tournament
2017-07-10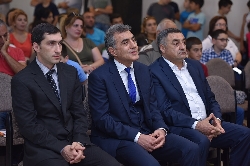 The closing ceremony of the Stepan Avagyan memorial: "Jermuk-2017" XII International Open Youth Chess Tournament was held on 10 of July in Jermuk City.​
The participants were congratulated and awarded with prizes by the governor of Vayots Dzor, the Mayor of Jermuk, the chief organizer of the tournament, president of Chess Academy of Armenia, vice-president of Chess Federation of Armenia.
Four chess trainers whose students showed top results were awarded with special prizes by AGBU.
The Armenian chess players from abroad got special prizes too.
As a result of the tournament the following players took places:
Under 18
1st place - Manukyan Artyom
2nd place - Yayloyan Konstantin
3rd place - Davtyan Arsen
Under 12
1st place - Manukyan Sevak
2nd place - Sahakyan Alex
3rd place - Petrosyants Argishti
Under 10
1st place - Hovsepyan Edik
2nd place - Karapetyan Levon
3rd place - Hakobyan Menua
3rd place - Qyarunts Arshak
In order to see the final results of the game click the links below:
Under 18
Under 12
Under 10
Photos of the tournament see on our facebook or the official page's gallery of the tournament.
Useful links

chess-results.com

Weather in Jermuk
Sponsor

Organizer